Gert Stroeve, Technical Director & Luuk Hans, head construction project supervisor, talk about the CO2-free washing process they are building together with TBR.
Gert and Luuk describe the many years of cooperation and partnership between TBR and Moderna Textile Services and the project: "TBR constructs heat pump at Moderna for a CO2-free washing process."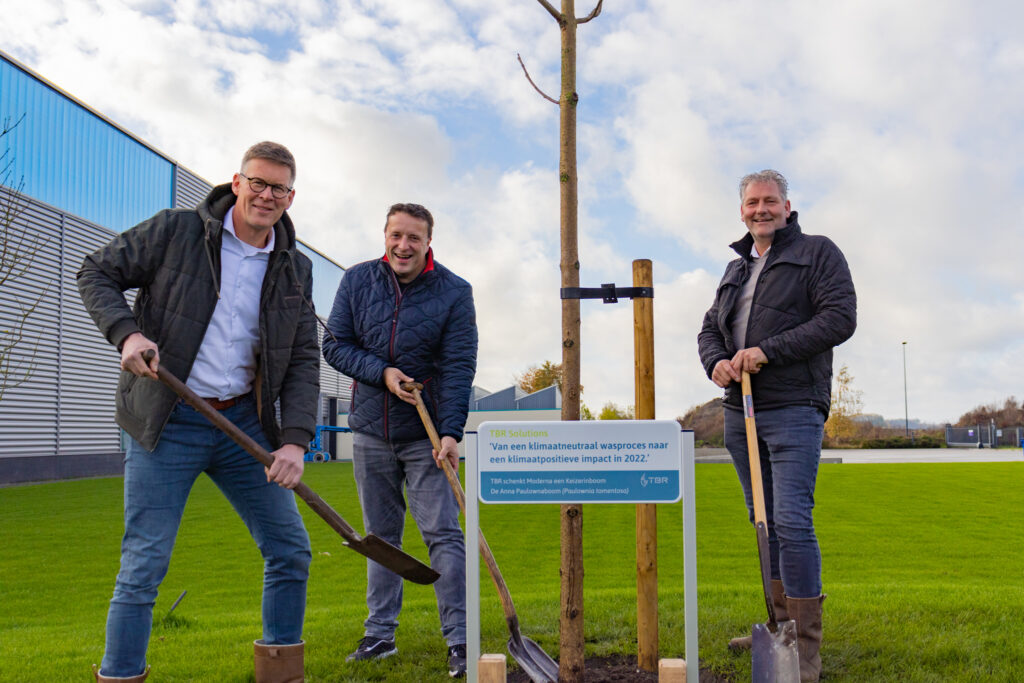 On the photo from left to right in front of the building and the new extension at Moderna: Henk Klatter, Luuk Hans, and Gert Stroeve
---
What was the situation, what did you want to achieve, where did you want to get to?

In 2014 we opened our new laundry. At the time, after the fire, we started as sustainably as possible. Every drop of water adheres to this plan. We deal with raw materials that we need for washing very consciously. We gathered advice from TBR Solutions for the construction of our new building. They helped us set up the most advanced laundry possible. We started with the latest equipment at the time.

The current customer base has grown considerably. We didn't have enough space and we lacked production capacity. It was time to expand. We have taken a sustainable route and intend to continue this in the future with the construction of our current building.

We asked Jaap and Henk from TBR for advice before we started with the construction. With the current energy consumption, it is good to see how it can be even more sustainable. We have been brainstorming together. What is the right solution for a CO2 neutral washing process?

Then TBR came up with the idea of a heat pump. We started investigating this technique together at another contact of TBR. After analysis, calculation and mutual consultation, we came to the decision to focus on a CO2 neutral washing process.

How did the project go and what solution was chosen?
To gain more knowledge about the operation and use of a heat pump, we visited a hospital together with TBR and talked to the technical service staff. The construction of their heat pump left a positive impression. It is a relatively simple way to save a lot of CO2.

It came across to us as a concise and solid plan. The way things worked at that location appealed to us. TBR has the in-house knowledge and experience concerning this type of technology. We are happy that they want to share their innovative solutions with us. Seeing is believing. At the hospital we were able to see how it works and whether the heat pump technology suits us and our company.

What has this solution achieved?
We are now going to reuse the energy from our waste water to heat fresh water via the heat pump. We are the first laundry ever to use this technique. You can read more and view the photos of the project here.
View the story and photos of the installation and the entire project here.

What is the result?

You want something new, and reducing CO2 is important. Not just for our future and the environment, but you can also see that in other countries, you have to pay a lot for CO2 emissions. Moderna wants to expand in a future-proof way. With a CO2 neutral washing process, we take responsibility and hope to inspire others. If we have to expand for capacity, it is an achievement in and of itself we can do this sustainably. During a 'normal' process, CO2 was added because of the production, the washing process. In our calculations we have seen that we are going to reduce 70.000 kg of CO2 per year and that is quite impressive.

Why did you choose TBR?

We have a good working relationship, TBR has great new ideas. TBR has been in the laundry industry for so long. We can't do without TBR. We fit together. The people of TBR do what they promise. Together, we built a beautiful project.
We also want to be innovative and lead the way in sustainable development. Together with TBR we can realize that.

How did you get to know TBR?
TBR was involved with Moderna from the very beginning. We have known TBR for a very long time. In the beginning, they had some growing left to do – we are talking about 20 years ago. Now they deliver the whole, complete package. You will be completely unburdened. They take control. They help you improve.

When you see what they can do… analysis, advice, supply machines and the complete installation up to and including control and monitoring. We can use the innovative technology. The big advantage for us is that we'll not be forced to stop working as quickly as before because we can decipher problems sooner through monitoring.

How would you describe TBR?

Innovative. Friendly, serious about their job. Always there for you.

What is so unique about this collaboration?
Putting our heads together and working towards something together. The excellent consultation. Knowing what you have in common. TBR has a very open attitude. Everything is negotiable.

We fit together like family. They are innovative.

Luuk: 'Just act normal, and you'll already be acting crazy enough. The good cooperation with TBR partially stands because we discuss everything with each other. You have one goal and you work towards that goal together.'

What was the collaboration like during the project?

There are currently no negatives to name. In the beginning you have a lot to do with Jaap and Henk, now more so with Jan and Erwin.

We asked TBR for advice in advance. We indicated that this is our project: "We are going to build a new hall. New wash tubes and mangles, what are we going to do?"

We took the time to thoroughly discuss all wishes. TBR went on with their calculations. For us, 'People, Planet and Profit' is important. When you start a new project, you want to know what else you can do. For new technology you have to go to TBR. They came up with the idea of the heat pump. Based on the entrepreneurial vision we have, we can expand further. Our long-term idea to optimize the company is thus being implemented. And we want to remain future-proof.

We should certainly not forget the technical people at Moderna themselves. They help and are immediately ready to get the job done with this extension. Mechanics. We put our heads together every day. And then there are people who help between interferences to get things going.

How was the communication?

Once in a while we have project meetings. We get plenty of feedback. When I ask questions I get help quickly. Erwin from TBR is present daily and they act as our extra eyes and ears for this project. At Moderna we want everything to be precise and we want the work to be done neatly. The demands are high. We fit together well. We enjoy getting things done together.

Jan handles the controls from TBR. Jan is very professional and takes the project very seriously. He knows what he's talking about. His eye for detail and knowledge of the technique is a great advantage. TBR has further developed the current system. Our system was already energy efficient and now we are going one step further on the road of sustainability.

How did the project planning go?
We at Moderna have a very tight schedule. The schedule is well on track. From engineering to installation, everything happens according to plan. If there is a delay, communication is fast and professional. Everything is discussed and there is a focus on an efficient process.

TBR is very good at adjusting schedules. During a construction project, things often go wrong because something is not delivered. The first priority then is to quickly pivot. With Jan and Erwin there, who immediately respond to changes in the schedule, that is no problem at all.
---
CO2 free washing process
Moderna uses a CO2-free washing process! The new installation will contribute to further reducing the CO2 footprint.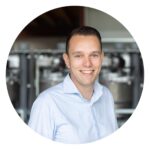 If you would like to know more about this project, please contact:
Jan Blom,
Project Engineer TBR Solutions