TBR Solutions is collaborating with Moderna on industrial heat pump technology to develop a CO2-free washing process.
Moderna is one of the most sustainable laundries in Europe. Every drop of water and all residual heat is reused in their process. Moderna was forced to rebuild after a fire and TBR helped them devise this extremely sustainable laundry from start to finish. Moderna received a BREEAM certificate in 2015 for the new building with a surface area of 12.778 m². BREEAM-NL has been the certification method for a sustainably built environment since 2009. The Dutch Green Building Council has made the method suitable for the Netherlands.
Expansion
Now that there is a need to expand the existing production capacity and thus, the building, we are reviewing our techniques. Can it get any better? Can we wash CO2 free?
Moderna Textile Service
Moderna Textile Service is a nationally operating, professional family business that offers a total package of services in the field of linen, company clothing, entrance mats and sanitary hygiene, with a focus on unburdening the customer. By executing processes as sustainably as possible, we take our responsibility for a clean future and a high quality of service.
Moderna Textile Service has several dry cleaners and laundries, clothing repair workshops and its own logistics service. Private individuals can use over 1.750 return depots to return clothing and textiles to be cleaned.
Sharing knowledge and a look behind the scenes
Gert Stroeve and Luuk Hans of Moderna Textile Service were happy to ask for advice before they start the expansion of the laundry in Hardenberg.
At the initiative of Henk Klatter and Jaap Reinders of TBR, Moderna was able to take a look behind the scenes at a TBR customer, namely 'Treant Zorggroep' Hospital Emmen. Both customers have the wish to become more sustainable in the coming years and TBR is the ideal partner for this endeavour.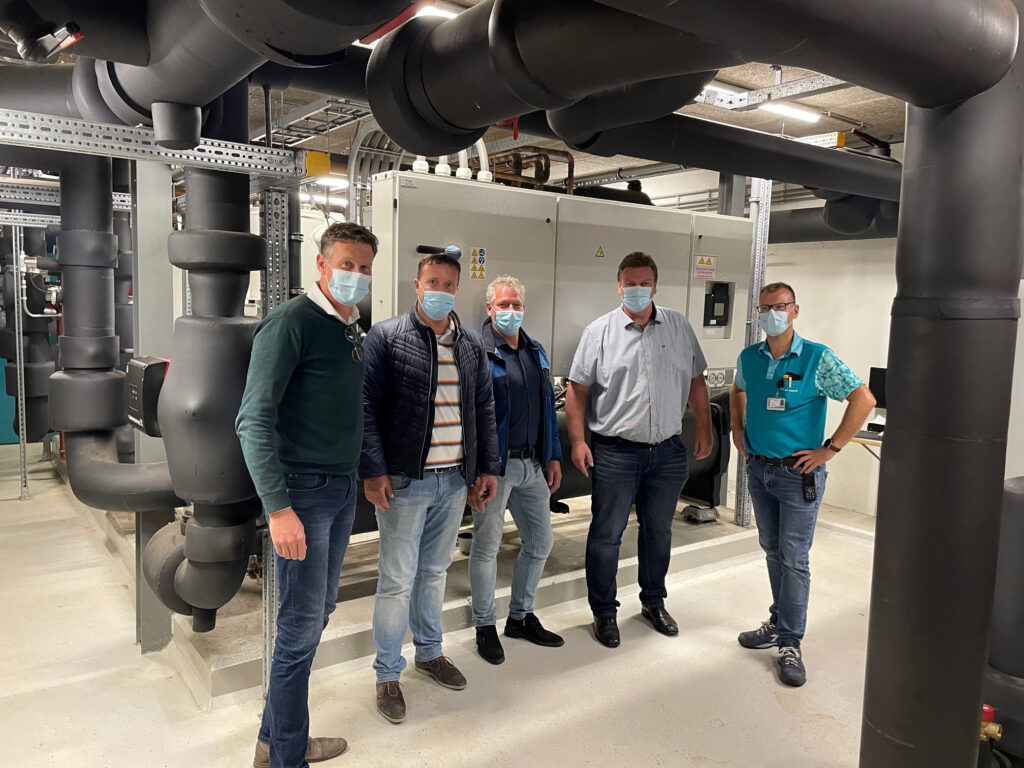 What did we do during this visit? How can we learn from each other? Creativity and entrepreneurship are stimulated by juxtaposing and comparing techniques in different industries.
Question from Moderna Textile Service
Various questions arose from Moderna, such as which existing and new processes can ensure sustainability in the energy supply? What are the advantages of a heat pump in the process? At the initiative of TBR, Gert and Luuk were able to see and experience that process with their own eyes during their particularly fun and inspiring company visit.
We are making our energy supply more sustainable in order to minimize the use of fossil fuels. We share knowledge about existing and new processes. Let's inspire each other and work towards a CO2 neutral process.
Activities
Our activities can be broadly listed as follows:
Analysis
Audit & Reporting
Engineering & drawing work
Project supervision
Installation work
Testing & Commissioning
Turn key & production
Engineering industrial heat pump
The company visit is followed by an inventory of the current processes, the current demand for energy and the input. TBR calculates the balance and determines what is needed to meet the energy demand. From that, the calculation follows. This calculation describes how we would optimize the entire process as much as possible, so we can see where there is any residual energy that can be used elsewhere in the process.
It is not just the quantity of energy, but also the quality of energy that is important. Once that is clear, choices can be made. Which, in turn, results in the best process performance possible!
After calculation and developing ideas for the intended installation in a technical drawing (P&ID – Process & Instrumentation Diagram), we discuss all options with the Moderna.
We want to unburden our customers completely. Every detail is worked out and we take care of the entire calculation, engineering and supervision of the complete installation.
Installation
A completely new washing tunnel is being installed to meet future capacity. Fitting TBR's heat pump technology to the new washing pipe reduces fossil fuel consumption to zero.
Due to the new construction, various parts will be moved to optimize the entire process.
Technical details: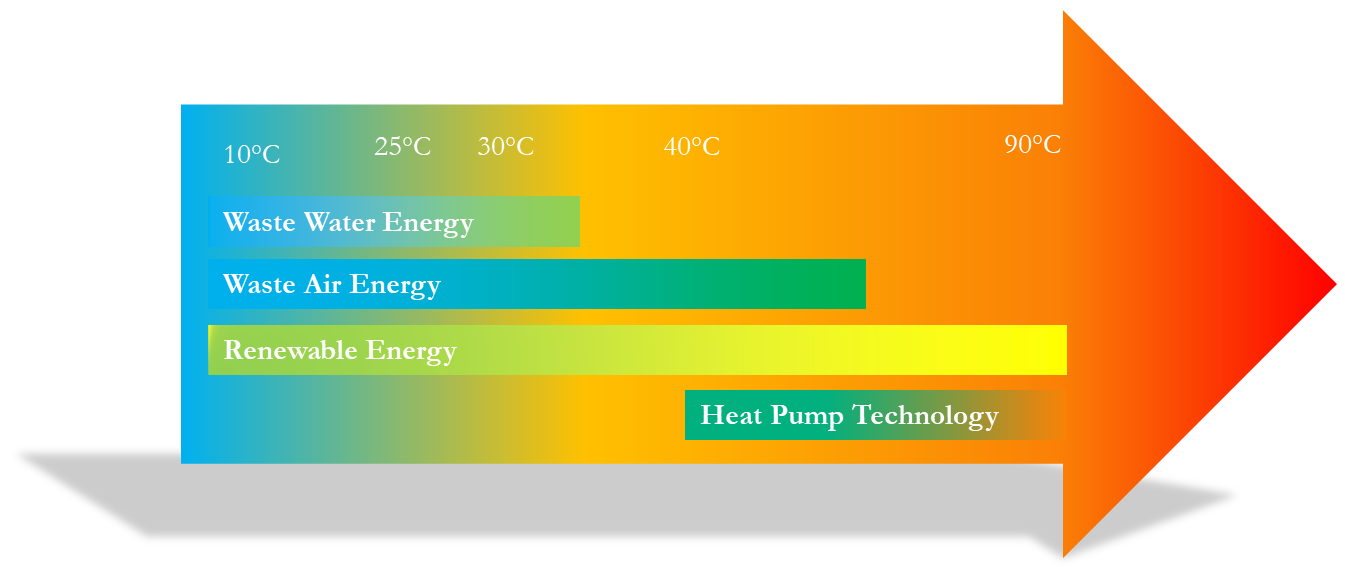 Emission-free washing using waste energy is achieved in a number of steps as shown above. At Moderna, this looks like the above diagram, using the following equipment from TBR:
TBR's HTHP heat pump technology is ground-breaking and the next step into the future of Moderna.
Industrial heat pump technology
A heat pump is a sustainable energy-saving alternative for heating water in, for example, the washing process. As a source of energy, waste energy is used in which this flow is cooled back to near the intake temperature and is used via the HTHP heat pump to wash at a high temperature and without emissions. Revolutionary!
How does a industrial heat pump work?
Heat pumps absorb heat and release this heat at a higher temperature level. Inside the heat pump, a refrigerant (a liquid) circulates through a compressor, a condenser, an expansion valve and an evaporator in which energy is continuously absorbed and transferred.
Heat pump efficiency
The return is determined by pricing of fossil energy, electricity and subsidy options. In general we can say that:
The payback period at Moderna is approximately 5 years
CO2 emissions are reduced by approx. 70.000 kg/year. Please note: In 2030, this CO2 levy is expected to cost €125 per ton of CO2!
The energy demand for a production of approximately 2.000 kg/hour is approximately 200 kW. This is therefore 100% extracted from waste energy.
The performance of TBR's HTHP heat pump has a performance COP (Coefficient Of Performance) of approximately 4.8 at higher temperatures. This means that with 1 kW input 4.8 kW of energy is generated.
The savings on fossil fuel in this case are approximately €25.000/year
A high constant return and a good payback period.
Photos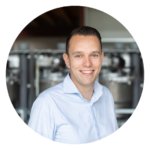 If you would like to know more about this project, please
contact
:
Jan Blom,
Project Engineer TBR Solutions