ZERO STEAM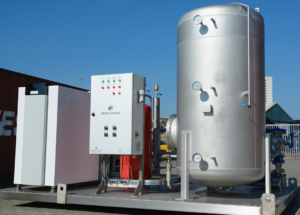 In 2017 TBR Solutions implemented Zero Steam MWB and Zero Steam HW at Blycolin Bunschoten, making the Bunschoten-location a completely steam-free business. Because of this, the main- and rinsing-phase of the washing tube as well as the open-ends run smoothly and efficiently. The transition to a steam-free business was conducted within the set time limit and without any loss of production.
A historical moment took place when the trusted and familiar but energy-consuming steam boiler was lifted out of the building. How this steam boiler was removed can be viewed here.
Air2Air
Blycolin invested not only in steamless washing (Zero Steam), but also in optimising gas-dryers. The full-drying section of Blycolin Bunschoten was expanded with TBR Solutions' Air2Air Technology. The incoming dryer-air is pre-heated with residual energy, reducing energy consumption by about 25%. This solution even earned Blycolin an energy-award!
Blycolin reduced its cost-price and, with TBR Solutions' help, is now ready for the future!
Project details
Year: 2017
Client: Blycolin