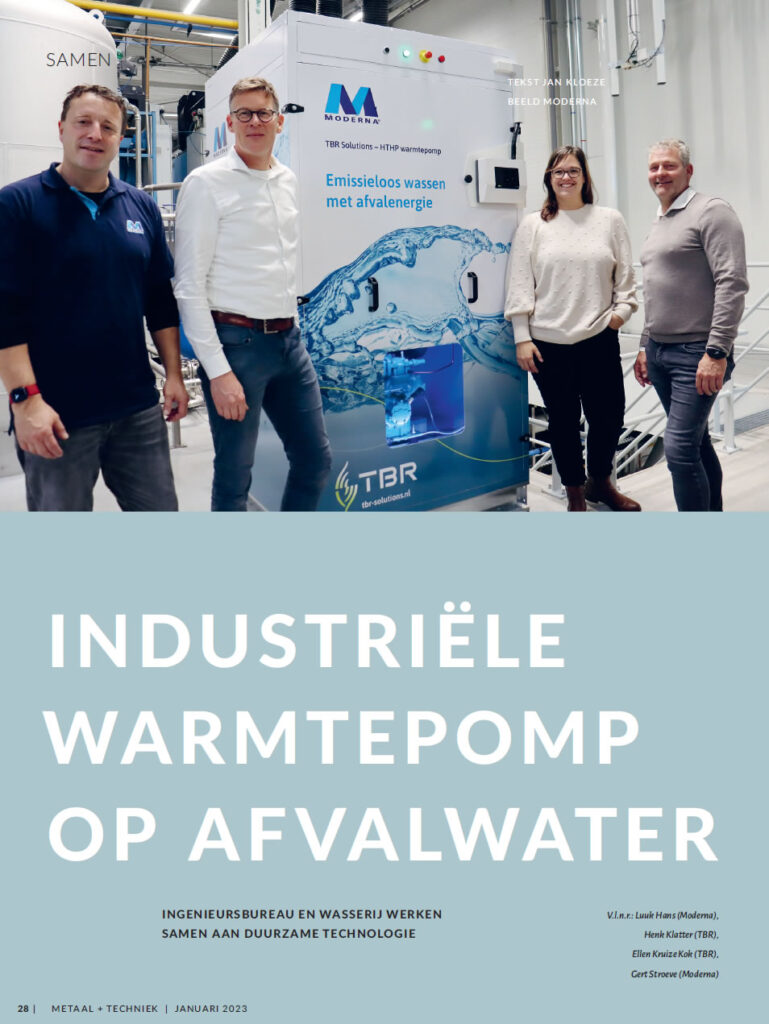 ENGINEERING FIRM AND LAUNDRY WORK TOGETHER ON SUSTAINABLE TECHNOLOGY
From: METAAL + TECHNIEK | JANUARY 2023
When industrial laundry Moderna developed an industrial heat pump that runs on waste water with engineering firm TBR Solutions, gas prices were not yet at an all-time high. Still, they persisted with their plan, because they believe in sustainability. Moreover, it is interesting from a financial standpoint if your energy consumption is lower than that of your competitors.
In the high season, industrial laundry Moderna in Hardenberg washes about 350.000 kilos per week for customers in the catering industry. Company clothing, about 85.000 items per week. Dry cleaning, about 10.000 pieces per week. Staff, about 400 FTE, but about 600 people in actuality due to the number of part-time workers. Compared to other industrial laundries, Moderna has succeeded in dealing with their energy consumption in a more sustainable way. One way they save energy is through the industrial heat pump developed together with engineering firm TBR from Gieten in Drenthe. As a result, the laundry emits 180.000 tons of CO2 less per year. The expected CO2 pricing will grow in steps, to 125 euros per ton in 2030. Thus, saving energy now will save a lot of money in the future. In addition, the heat pump is now connected to only one of the four washing pipes, which can further reduce potential CO2 emissions. The heat pump reduces gas consumption to zero. On the other hand, electricity consumption is increasing – but this is done efficiently because this heat pump is able to upgrade an input of 1 kWh to an output of 4 kWh thermally.
First industrial heat pump
The unique, patented technology for this first industrial heat pump in a laundry is based on the recovery of heat from waste water. Heat pumps usually operate on sources coming from the air or the ground. But an industrial laundry obviously produces a lot of waste water; the discharge thereof is also a considerable expense. By purifying that water with filtration techniques and using it as a heat source via heat exchangers, a new way of saving energy has been realised. The washing process requires about 15 litres of water per kg of laundry. Now, only 2 litres of fresh water is needed. The rest is sourced from the recovered wastewater.
Partner companies
Sustainability is of great importance to both Moderna and TBR Solutions. Gert Stroeve, co-owner of Moderna, and Henk Klatter, co-owner of TBR Solutions, know each other well. The cooperation between their companies goes back to the nineties. They see each other as partner companies.
‹‹ The heat pump reduces gas consumption to zero ››
Therefore, TBR is involved in all sustainable issues related to the production processes at Moderna. A tipping point occurred in 2013, when a major fire destroyed the laundry in Gramsbergen, after which Moderna had to be rebuilt both technically and logistically. Previously, the laundry operated at four locations. After the fire, centralization took place in Hardenberg. The new building, counted at almost 10.000 square meters, was operational in 2014. The roof was immediately filled with solar panels. Another important innovation was already implemented by TBR at that time, namely the invention of an alternative to steam washing, something that is still very common in many laundries but has been left behind by Moderna. Klatter: "Everyone understands that it is extremely inefficient to have steam at 180 degrees Celsius to do laundry at 60 degrees."
Knowledge center
The abbreviation TBR in TBR Solutions stands for Technical Bureau Reinders, a company that has been focused on steam and condensate technology since its start in 1979. Son Jaap Reinders took over from his father. In 2004, Klatter became a co-owner. A third, young partner recently joined. Gradually, the company with nine employees originally has evolved into a knowledge centre in processes and optimisations. TBR Solutions is also capable of delivering turnkey designed processes upon request.
Company clothing line
Moderna's streamlined organization extends to the department where company clothing is washed. Upon receipt in Hardenberg, the garments are checked, repaired or replaced if necessary. Moderna has its own company clothing line and can also easily adjust logos or other company characteristics as desired. Stroeve: "It's a matter of unburdening." Moderna has about 50 trucks. All their drivers are in-house workers. The clothes are picked up several times a week and are returned to the customer's closet before the weekend, cleaned and all. The driver then immediately replenishes the towel rolls, soap dispensers or toilet paper and, if desired, provides a cleaned entrance mat and therefore a clean entrance. Moderna is a great believer in this one-stop-shop approach.