For over 40 years Technical Bureau Reinders B.V. has contributed to global sustainable entrepreneurship in the industrial sector. This anniversary provided the perfect opportunity to give ourselves a makeover. Our updated name TBR B.V. and our brand-new logo do more justice to our identity and better reflect our international mindset.
Thanks to you and all our customers across the globe, the transition to a more energy-conscious world is within arm's reach.
Development of our new corporate design
Even after 40 years, TBR is still an innovative, solid and professional organisation. We excel in quality and outstanding service. These defining features had to be the starting point of our new corporate design. A robust, solid brand that signals sustainability. Backed by In Ontwerp, a design agency based in Assen, we chose a fresh colour scheme, a new logo and an updated corporate design, which we now proudly present to you.
The result? A corporate design that tells our story and conveys what we stand for. A fresh brand, clearly recognizable at first glance. Updated workwear for our staff. A revamped website with a sleek, easy to navigate design. All styled in a solid, bold and modern design. You'll find our easily recognisable visual identity already implemented in both our online and offline presence.
Our old logo dates back to 1979 and has been a symbol for our professional profile for over 40 years. Proud as we are of our heritage and rich history, our new corporate design doesn't make a clean break from our old visual identity. By retaining core elements from the design of our old logo, we appreciate how far TBR B.V. has come and keep our organisation easily recognisable. Our professional profile has shown fantastic growth over the years. This alteration of our visual identity reflects who we are today and takes into account the latest trends and requirements in the industrial sector, all the while remaining true to our long-standing reputation.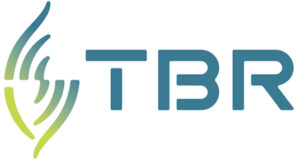 TBR futureproof
With our new corporate design and updated content, we hope to efficiently communicate what TBR B.V. can do for you. Our intention is to convey that our innovations can help you be in control of your company's industrial processes. We offer a precise and skilled approach that optimizes processes to be as efficient as possible.
What do the shapes in our new logo mean? The following are key elements in this new logo.
The leaf shape emphasizes both sustainability and a continual development, movement and growth.
With the Trias Energetica in mind, TBR collects as much residual heat from industrial processes as possible and returns it to the process. This ensures residual heat doesn't go to waste, optimizing the use of energy that has already been added to the process. In addition to this, stimulating efficient use of energy, using sustainable equipment and reducing initial energy demand facilitates saving even more energy and lowering your cost price.
Stay up to date
Via our updated website we hope to be of even better service to you and to keep you updated on our latest news. The revamped website has a clean, modern design, is easy to navigate and provides rich new content about all of our activities. To keep you updated, we'll be providing lots of updates and information about our new projects.
If you haven't found the information you're looking for within our site, please feel free to contact us. In addition to the regular updates on our website, you can also follow us on Facebook and LinkedIn.
We thank you for the confidence you've placed in us the last 40 years. With our beautiful visual and digital upgrade, we hope to be an even better partner in sustainable, efficient and cost-reducing solutions!